Last week Lion Brand Yarn announced that they were starting a new Knit-along. Being a frustrated but enthusiastic knitter I decided that this was the pattern for me. The instructions were simple, the needles large and the yarn bulky. Piece of cake.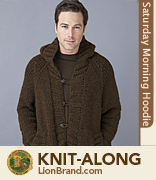 http://blog.lionbrand.com/2011/01/20/announcing-our-winter-2011-knit-along/
Yesterday, January 25th, I went yarn shopping. And it was immediately obvious that everyone in the world had been yarnshopping on the 24th. Not only was there none of the specified yarn from the pattern available but there wasn't even anything to give me an idea of the weight of the yarn. So I winged it. I found a lovely tweedy brown in the Vanna's Choice line called "Barley". Not quite what I wanted and a lot less color than I was hoping for but a nice soft hand and pleasing non-gender specific color.
I jumped in with both hands and size 13 circular needles (personal preference to do larger projects on circular needles). And it is flying along. After 4 hours last evening - and during the State of the Union Address on CSPAN I finished 13 inches of the back of the sweater.
Today is heavy on the laundry so there will be some spots of time for knitting. In three inches I start the raglan sleeve inset reductions!
Oh, the yarn seems to be working well. Guage is spot-on. As far as the size of the sweater, they always seem to run large so the final recipient is undecided.